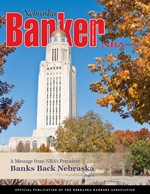 Pub. 16 2021-2022 Issue 3
By Rob Nichols, President and CEO, American Bankers Association
By Richard Baier, President and CEO, Nebraska Bankers Association
As I sat down to begin planning this magazine column, my mind instantly gravitated to the many Congressional hurdles, regulatory proposals and operational issues facing the banking industry in Nebraska; the list feels almost endless: potential new IRS reporting requirements, new Consumer Financial Protection Bureau reporting rules on small business lending, workforce limitations, etc.


By Kenneth W. Hartman, Baird Holm, LLP
By Cody Delzer, CISA, CDPSE, SVP IS Consultant/Regional Director, SBS CyberSecurity, LLC
By John Berteau, General Counsel, Compliance Alliance
By Jeffrey F. Caughron, Managing Director, The Baker Group
Inside you will find additional information such as upcoming webinars, conferences, previous events, anniversaries, and more. Take a look through the flip book to see all the extras. You can also download a PDF and save it to read later.